COURTNEY
My healing involves 10 years of scoliosis, trauma, and alcohol addiction. I am honest about my journey because this kind of honesty saves lives.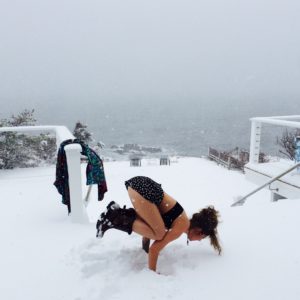 I was diagnosed with scoliosis when I was 11 years old. I was lucky to receive the best treatment Western medicine had to offer.  Unfortunately "best treatment" is based on the belief that nothing can be done for scoliosis. The only strategy was trying to prevent the curvature of the spine from getting worse structurally and doing physical therapy to support muscles during this process.
The doctors braced me at the age of 13.  I was to wear the suffocating brace 18 hours a day. I often removed it to take a breather as it was difficult to fill your lungs while wearing the thing. I wore the brace for almost three years until I was (supposedly) finished growing.  Around this time, I discovered alcohol.  With a genetic predisposition and a trauma history begging for attention, I began my love affair with the poisonous substance.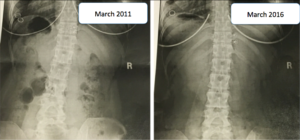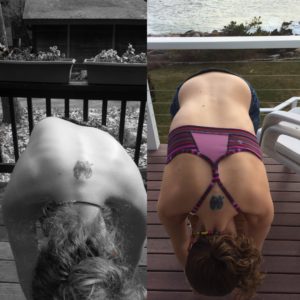 Between the ages of 16 and 25, I floundered in my alcohol addiction, desperately wishing to stop but not seeing any light on the other side. Divine intervention occurred in 2014, when my mental health counselor convinced me to do a yoga teacher training. This was a 30 day immersion. We practiced hours and hours of asanas, and then spent  remaining hours in philosophical exploration. I was in heaven with expansive discussion with people who believed, as I did, that there is so much more to life than meets the eye.
My most valuable lesson from my asana practice? It's okay to be uncomfortable.  When I was in the hell of my emotional upheavals, I had teachers, friends and ancient scripture to guide me along my healing journey to help me find ease in the discomfort.  Most importantly, yoga softened my heart. Many layers of defensiveness kept me from loving others authentically and from knowing myself. Through my yoga practice, I embraced, for the first time since I was  a child, self love and self forgiveness.
I am now working with my scoliosis on a physical plane as well as an emotional and spiritual plane. Specific asanas help to level out the twisting and lateral curvature of my spine; building core strength helps ease the overuse of smaller muscles; and my meditation/expressive therapies practice helps with the emotional aspects of defensiveness. I am celebrating 7 months alcohol free and 27 years alive on this planet! Finally, I can say…SLOW THIS TRAIN DOWN! And actually, with a little pranayama, we can 😉
The comparison photo of my spine shows the difference between my spine before yoga and after.  Before yoga was taken March 2011, and after yoga March 2016.
Another photo is me in the hip-opener pose, a super emotional asana.  As a trauma survivor, I feel like so much work can be done for PTSD in these spaces. It is important for people to have a safe space and someone who can be there to talk them through and simply be present through emotional release.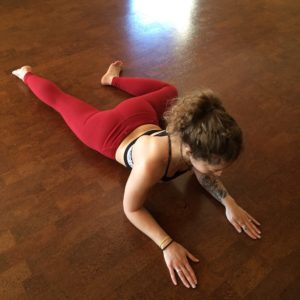 My other photo, "crow in the snow" reminds me that sometimes, you do have to stop telling yourself the same story over and over.  As Ram Dass reminds us, "Everything changes once we identify with being the witness to the story, instead of the actor in it." So, I'm the badass doing Kakasana in the snow because, that day, it was time to get out of bed and live in the moment!